Chicken Pot Pie Noodles
The faster version for your favorite comfort meal.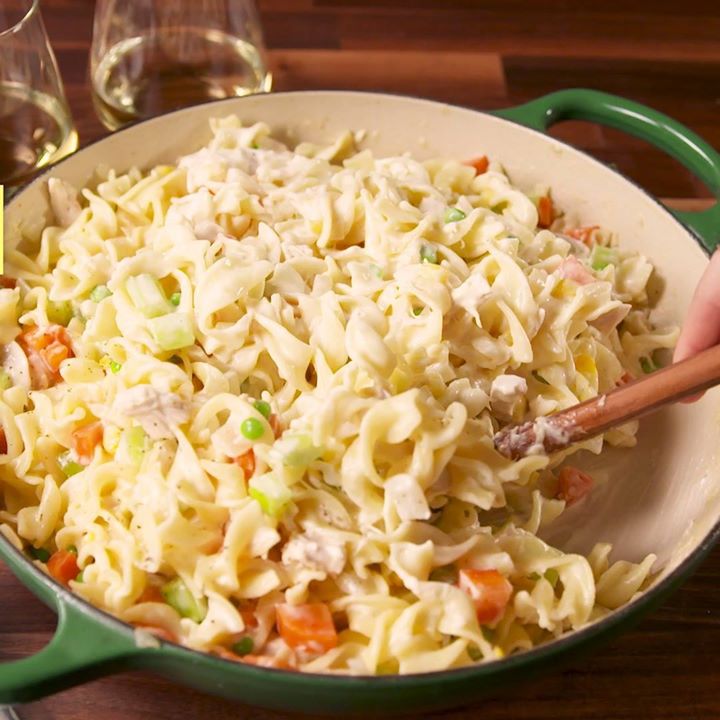 Ingredients
2 tbsp. butter
2 carrots, peeled and diced
2 celery stalks, diced
1 large onion, chopped
2 garlic cloves, minced
kosher salt
Freshly ground black pepper
2 tbsp. all-purpose flour
1 c. chicken broth
1 c. heavy cream
10 oz. egg noodles, cooked according to package instructions
1½ c. cooked shredded chicken
½ c. frozen corn
½ c. frozen peas
Instructions
In a large skillet over medium heat, melt butter. Add carrots, celery, onion, and garlic and season with salt and pepper. Cook until softened, 3 minutes, then stir in flour and cook 1 minute.
Stir in chicken broth and heavy cream and bring to a boil, then reduce heat and simmer, stirring occasionally, until thickened, about 5 minutes. Stir in pasta, chicken, corn, and peas and simmer until warmed through. Season with salt and pepper. Serve.
Watch the recipe video here: