Mexican Carnitas As Made By Claudette
Get ready to drool as you watch the first 8 seconds of this video... then get ready to cook!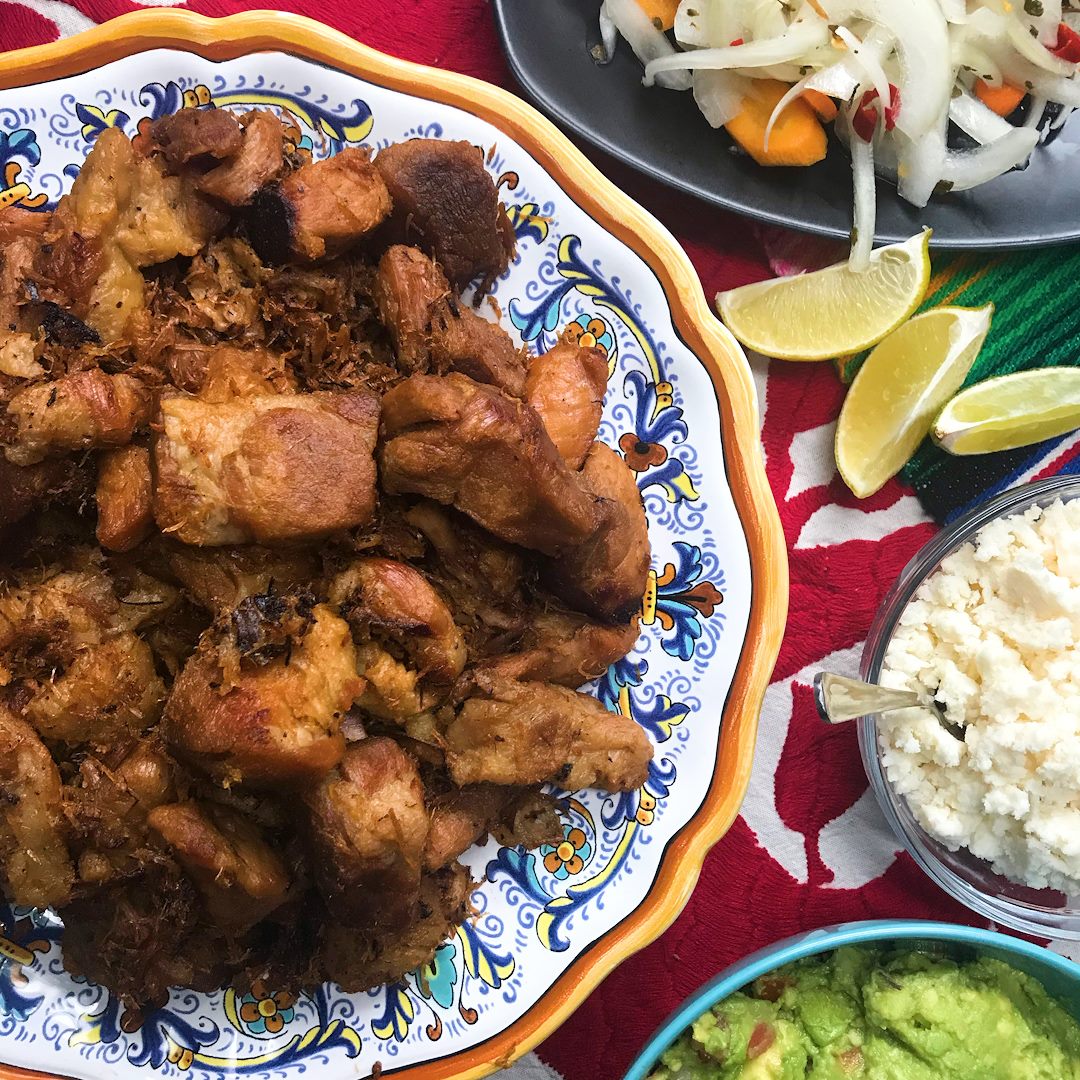 Ingredients
CARNITAS
5 lb pork shoulder, cut into 2-inch (5 cm) cubes (2.2 g)
2 large white onions, chopped
10 avocado leaves
1 teaspoon pepper
¼ cup kosher salt (60 g)
6 cloves garlic, grated
2 dried bay leaves
cold water
½ cup orange juice (120 mL)
½ cup milk (120 mL)
12 oz mexican style soda, 1 bottle (355 mL)
3 lb lard, cut into large cubes (1.3 g)
FOR SERVING
white corn tortillas
guacamole
pickled vegetable
fresh cilantro, chopped
lime wedge
rice, (made with cilantro)
pinto bean
Instructions
To a large pot, add the cubed pork shoulder, onions, avocado leaves, pepper, salt, garlic, and bay leaves. Add enough cold water to cover all the meat. Bring to a boil over high heat, then continue to boil for 20 minutes.
Add the orange juice, milk, and cola, return to a boil, and simmer until the liquid has reduced by half, about 1 hour.
Add the lard, let it melt, then boil off the rest of the liquid until the meat begins to fry, 1 hour more.
Once the meat turns dark golden brown and is crispy, scoop it out of the pot and onto a paper bag or paper towel-lined baking sheet to drain.
Serve with corn tortillas, guacamole, pickled vegetables, cilantro, lime wedges, cilantro rice, and pinto beans.
Enjoy!
Watch the recipe video here:
Get ready to drool as you watch the first 8 seconds of this video… then get ready to cook! Get the recipe: https://tasty.co/recipe/mexican-carnitas-as-made-by-claudette

Posted by Tasty on Monday, November 12, 2018