Khachapuri
You'll want to dive face-first into this swimming pool made of bread and cheese.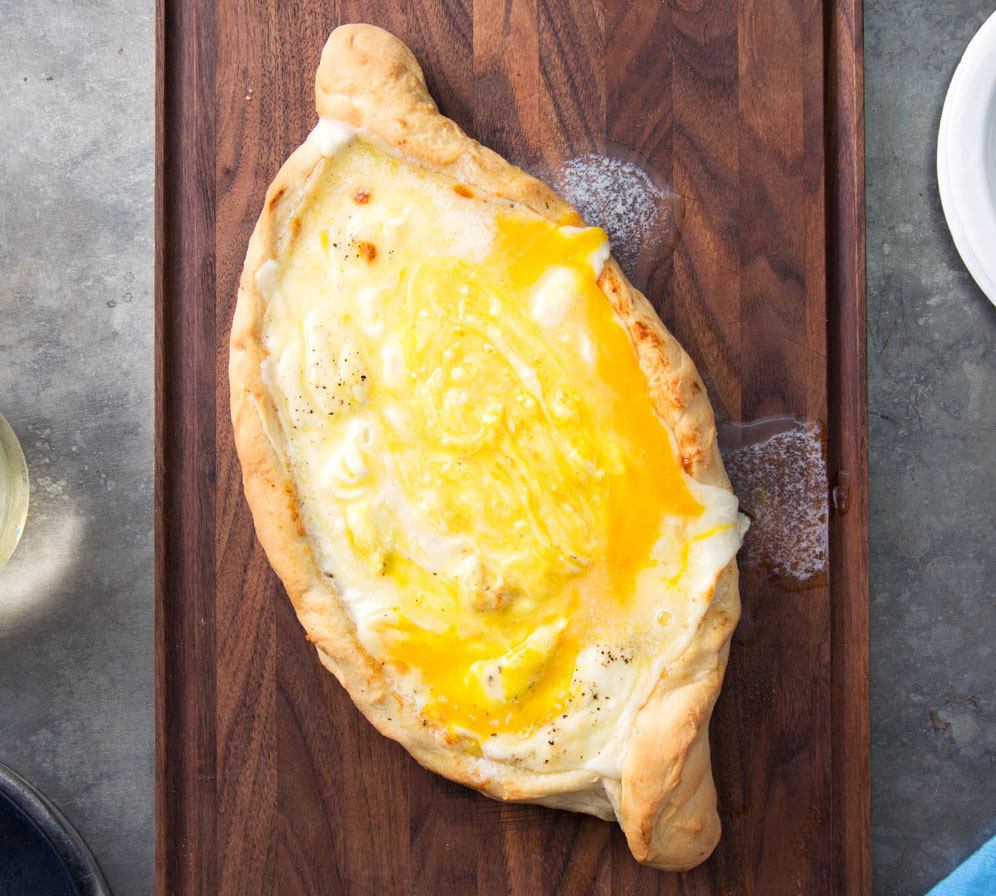 Ingredients
1 cup milk
2 packets yeast
½ teaspoon plus 1 tablespoon sugar
3 cups all-purpose flour, plus ¼ cup for dusting and rolling
1 teaspoon salt
¼ pound butter, room temperature, cut into 8 pieces
Olive oil
2 tablespoons flour
2 tablespoons butter
¾ cup cold milk
¾ pound feta
1¼ pounds shredded mozzarella
2 egg yolks
2 tablespoons melted butter
1 tablespoon chili flakes
Instructions
Preheat oven to 450 degrees. Heat milk to 110 degrees.
In a small bowl, add ½ cup milk, and sprinkle yeast and ½ teaspoon sugar over milk. Stir to dissolve. Allow to sit for 10 minutes, then stir in remaining milk.
In a large bowl, add flour and make a well in the center. Add yeast sponge and the remaining sugar and butter. Stir until a ball is formed.
Turn ball onto a floured surface, and knead for 10 minutes. Place in an oiled bowl and cover with plastic wrap. Let it sit for 1 to 1½ hours until it doubles in size.
Punch dough with fist and allow to rise again for 40 minutes.
While dough is rising, make the cheese filling. In a sauce pot over medium heat, add butter and flour. Stir for 1 minute. Add the milk, and whisk continuously until it starts to simmer and thicken. Stir in feta. Season with salt and pepper and allow to cool. Once cool, stir in shredded mozzarella. Set aside.
On a lightly floured surface, divide the dough in half. Roll each half into a large football-shaped oval, then transfer to a sheet tray lined with parchment paper.
Pile half the cheese mixture across the middle of one of the dough pieces. Fold the dough over to partially cover the cheese, creating a one-inch border. Bring the 2 ends together and tuck the tips under, then pinch at the bottom so it sticks. Repeat with the second dough football. Brush the bread with olive oil before putting it into the oven.
Bake for 10 to 20 minutes until golden. Remove from oven and place a tablespoon of unsalted butter and an egg yolk in the center of each bread. Place back in the oven for one minute to set yolk. To serve, top with chili flakes, break yolk and stir into cheese.
Watch the recipe video here:
Ultra Cheesy KhachapuriYou'll want to dive face-first into this swimming pool made of bread & cheese.Save this recipe: https://taste.md/2vncJFcMore recipes on our app ? https://taste.md/2sltyPt

Posted by Tastemade on Saturday, July 14, 2018