Chicken Soup Dumplings
Get the perfect serving of soup in every bite with warm steamed dumplings filled with chicken, carrots, celery, and broth.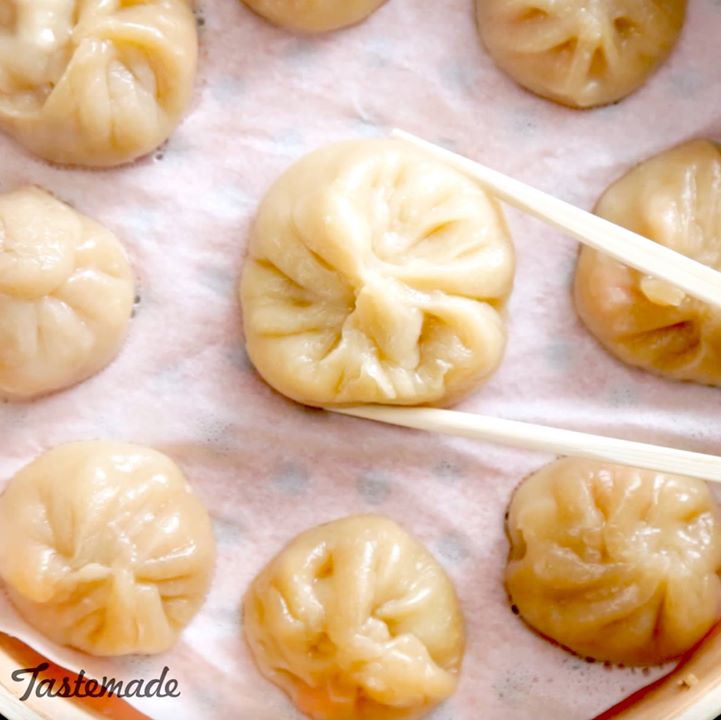 Ingredients
For the stock:
2 pounds chicken, breasts and thighs
1 bunch curly parsley
2 carrots, halved
4 celery stalks, halved
1 onion, quartered
8 cups water
2 teaspoons salt
2 teaspoons freshly ground black pepper
4 tablespoons gelatin powder
For the dumplings:
2 cups bread flour
1 cup all-purpose flour
1¼ cups just-boiled water
2 tablespoons vegetable oil
Instructions
Make the stock and filling: In a large stock pot, combine chicken, parsley, carrots, celery, onion, water, salt and black pepper. Bring to a boil, then simmer for 1 hour. Cool, strain and separate solids, discarding parsley and onions. Dice carrots and celery halves and shred chicken. Cover and refrigerate until needed.
Return the broth to the stock pot and add gelatin. Once the gelatin has bloomed, heat until just boiling and stir to combine. Transfer to 4 ice cube trays and refrigerate for 1 hour.
Make the dumpling dough: In a food processor fitted with the blade attachment, pulse bread flour and all-purpose flour until combined. In a separate small bowl, combine boiled water and oil. With the food processor running, slowly add the oil-water mixture. The result will be a soft, warm dough. Transfer the dough to a lightly floured surface and knead for a few minutes. Wrap the dough in plastic and rest at room temperature for 1 hour.
Make the dumplings: Prepare a steamer tray with parchment paper.
Remove the broth cubes from the tray and transfer to the bowl with the chicken filling. Stir to combine well and set aside.
On a lightly floured surface, cut the dough in half. Set aside one half, and cut the remaining dough into 24 even pieces. Roll these pieces into balls. Dust the balls with flour to prevent sticking.
Shape each ball into a flat circle about 3 inches wide. Add about a tablespoon of filling, and pleat and pinch the rim of the dough together to secure. Make sure the dough is completely sealed. Repeat with remaining dough and filling.
Place finished dumplings in the prepared steamer, sealed side up. Steam dumplings for 5 to 10 minutes. Serve hot.
Watch the recipe video here:
These little dumplings of chicken soup will warm your belly & heart.Full Recipe: taste.md/2z2DJsi

Posted by Tastemade on Saturday, February 3, 2018