BBQ Chicken Loaded Onion Rings
BBQ Chicken Loaded Onion Rings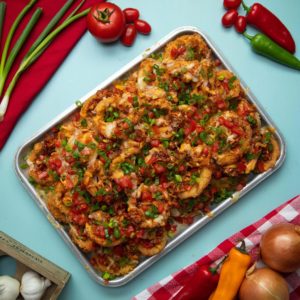 Ingredients
BBQ RUB:
½ tbsp paprika
1 tsp ground cumin
1 tsp chili powder
½ tsp garlic powder
½ tsp mustard powder
2 tsp sugar
½ tsp salt
½ tsp pepper
1 tbsp oil
BBQ SAUCE:
400g ketchup
150ml cider vinegar
200g light muscovado sugar
2 tsp smoked paprika
200ml orange juice
2 garlic cloves, crushed
4 chicken breasts
4 spring onions, chopped finely
10 rashers bacon, cooked crispy and chopped
4 large white onions, sliced into rings
1 cup seasoned flour
1 ½ cups buttermilk
1 egg, whisked
2-3 cups panko breadcrumbs
Oil for frying
Garnish:
Chopped tomatoes
Chopped spring onions
1 cup mixed cheese, grated
Instructions
Preheat oven to 180ºC.
In a bowl, mix together all of the bbq rub ingredients. Coat the chicken breasts in the mixture well. Arrange on a tray and bake for 20-30 minutes until cooked through. Shred chicken when cooked.
In a saucepan over medium heat, add all of the bbq sauce ingredients. Cook until it begins to boil then lower to simmer until thickened.
Toss the shredded chicken with chopped spring onions and cooked bacon. Set aside.
Add flour into a Ziploc bag with onion rings. Shake to coat well and evenly.
Whisk the egg into the buttermilk. Dip each onion rings into the milk mixture and then into the panko breadcrumbs, pressing to coat.
Heat oil to 170ºC in a large pot.
Fry each onion ring until golden brown, set aside on a cooling rack to drain.
Lay half of the onion rings and top with half of the bbq chicken mixture. Top with remaining onion rings and bbq chicken. Sprinkle evenly with cheese.
Grill for 5 minutes until cheese has melted
Garnish with chopped tomatoes and spring onions. Enjoy!
Watch the recipe video here: