Bacon Brussels Sprouts Au Gratin
Bacon + cheese + Brussels sprouts = the perfect side for your Easter brunch!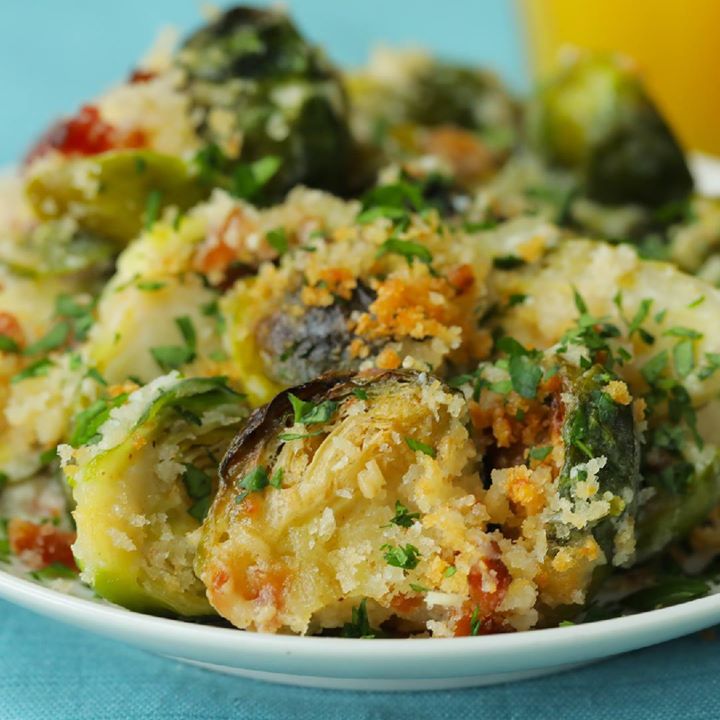 Ingredients
6 pieces bacon
1½ pounds Brussels sprouts
4 tablespoons Land O'Lakes® Butter
1 leek, thinly sliced
4 tablespoons flour
2½ cups milk
1 teaspoon salt
¼ teaspoon black pepper
¼ teaspoon ground nutmeg
Crunchy Topping
2 tablespoons Land O'Lakes® Butter
½ cup panko breadcrumbs
¼ cup grated Parmesan cheese
1 tablespoon fresh parsley, minced
Instructions
Heat a skillet to medium. Add bacon and cook until crispy. Remove and drain over a paper towel. Once cooled, crumble and set aside.
Preheat oven to 375ºF.
Bring a large pot of water to boil. Once boiling, blanch the Brussels sprouts for 2 minutes, then drain and shock in ice water.
Dry off the sprouts and cut in half, or if the sprouts are large, cut into quarters.
Melt butter in a large saucepan. Add the leek and saute for 4–5 minutes until softened. Whisk in the flour and cook for 1 minute. Pour in the milk and season with the salt, pepper, and nutmeg. Whisk for 3–4 minutes until thickened. Remove from heat.
Fold the Brussels sprouts into the sauce. Add the crumbled bacon, reserving 2 tablespoons. Pour the mixture into a baking dish and bake for 15 minutes.
While the gratin is starting to bake, make the crunchy topping. Melt the butter in a small pan. Add the breadcrumbs and stir until the butter has been evenly absorbed. Place in a bowl. Add the bacon and Parmesan and stir well.
When the gratin has baked for the first 15 minutes, remove from oven and evenly sprinkle the breadcrumb mixture onto it. Bake for another 15 minutes.
Remove from oven. Garnish with parsley and serve!
Watch the recipe video here:
Bacon Brussels Sprouts Au Gratin

Bacon Brussels Sprouts Au GratinBacon + cheese + Brussels sprouts = the perfect side for your Easter brunch! ? ?

Posted by Tasty on Monday, March 19, 2018