Tiramisu Toffee Dessert
This is a nice version of the popular Italian pick-me-up dessert. The toffee candy in this recipe adds a delightful crunchiness to the smooth creamy whipped cream quality of an already perfect dessert.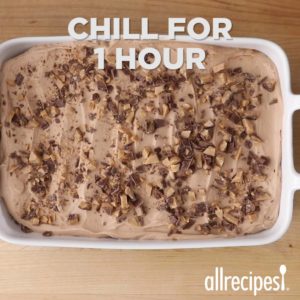 Ingredients
1 (10.75 ounce) package frozen prepared pound cake, thawed and cut into 9 slices
¾ cup strong brewed coffee
1 (8 ounce) package cream cheese
1 cup white sugar
½ cup chocolate syrup
2 cups heavy whipping cream
2 (1.4 ounce) bars chocolate covered English toffee, chopped
Instructions
Arrange cake slices on bottom of a rectangular 11x7 inch baking dish, cutting cake slices if necessary to fit the bottom of the dish. Drizzle coffee over cake.
Beat cream cheese, sugar, and chocolate syrup, in a large bowl with an electric mixer on medium speed until smooth. Add heavy cream; beat on medium speed until light and fluffy. Spread over cake. Sprinkle with chocolate-covered toffee candy.
Cover and refrigerate for at least 1 hour, but no longer than 24 hours, to set dessert and blend flavors.
Watch the recipe video here: