Potato Deviled Eggs
Eggs and potatoes are a classic combo, but we bet you've never had them like this! The egg whites are swapped out for the potato cups, which are filled the classic creamy egg yolk filling (save the whites for another use!). Topped with fresh chives and crunchy bacon, these make the perfect one-bite snack for your next gathering.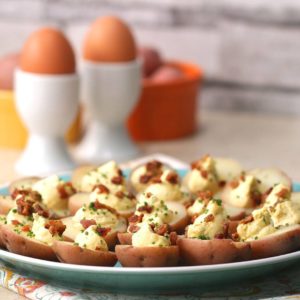 Ingredients
12 baby red potatoes
3 teaspoons kosher salt, divided
12 hard boiled egg yolks
½ cup sour cream (115 g)
1 teaspoon dijon mustard
½ teaspoon ground black pepper
2 teaspoons fresh chives, minced, plus more for garnish
2 strips bacon, cooked and crumbled
Instructions
Add the potatoes and 1½ teaspoons of salt to a large saucepan with enough cold water to cover the potatoes. Bring to a boil over high heat, then cook for 10-12 minutes, until tender when poked with a fork. Drain and let cool completely.
Once the potatoes are cooled, cut in half and use a measuring spoon to scoop out 1 teaspoon of the center of each half.
In a medium bowl, combine the egg yolks, sour cream, mustard, pepper, chives, and the remaining 1½ teaspoons of salt. Mash together with a fork until smooth.
Transfer the deviled egg filling to a zip-top plastic bag. Snip off a corner of the bag to create an opening.
Pipe the filling into the potato cups. Garnish with the bacon and chives.
Enjoy!
Watch the recipe video here:
Eggs and potatoes are a classic combo, but we bet you've never had them like this! Recipe: https://tasty.co/recipe/potato-deviled-eggs

Posted by Tasty on Friday, August 9, 2019