Chicken Caesar Wraps
Low-carb lovers, rejoice!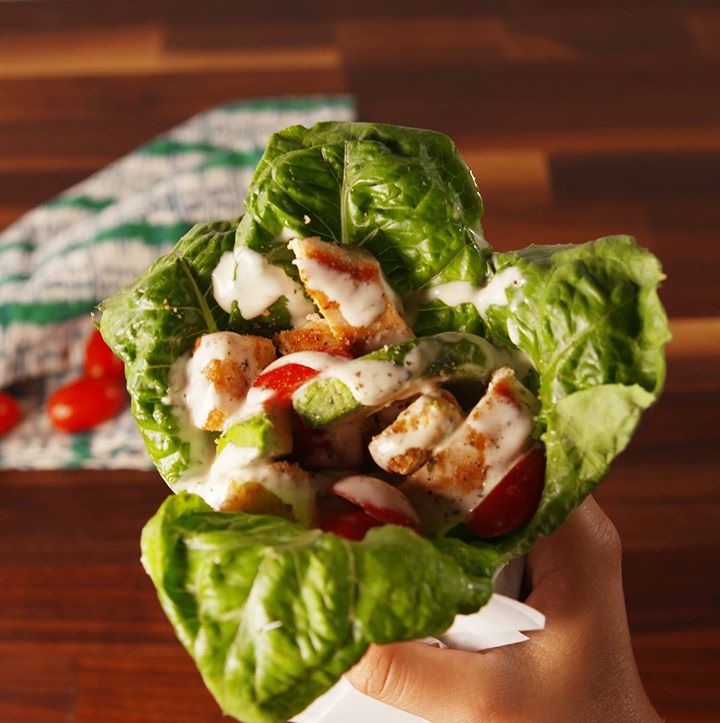 Ingredients
1 tbsp. extra-virgin olive oil
2 boneless skinless chicken breasts
1 tsp. garlic powder
1 tsp. oregano
kosher salt
Freshly ground black pepper
16 leaves romaine
1 avocado, sliced
1½ c. grape tomatoes, quartered
1 c. croutons
1 c. Caesar dressing
⅔ c. freshly grated Parmesan
Instructions
In a large skillet over medium-high heat, heat oil. Add chicken and season with garlic powder, oregano, salt and pepper. Cook until golden and no longer pink, 8 minutes per side. Let rest 5 minutes, then slice.
Cut a large square of parchment. Fold up bottom corner to make a triangle. Cover paper with 3 leaves romaine then top with a few slice of chicken, avocado, and a handful of tomatoes and croutons. Drizzle with Caesar dressing and sprinkle with Parm, then top with another romaine leaf.
Roll wrap by folding sides in toward one another, then tightly wrap parchment paper around bottom. Poke with a toothpick to secure and top with more dressing. Repeat with remaining ingredients to make three more wraps.
Watch the recipe video here: