Million Dollar Cheesy Taco Pasta
Million Dollar Cheesy Taco Pasta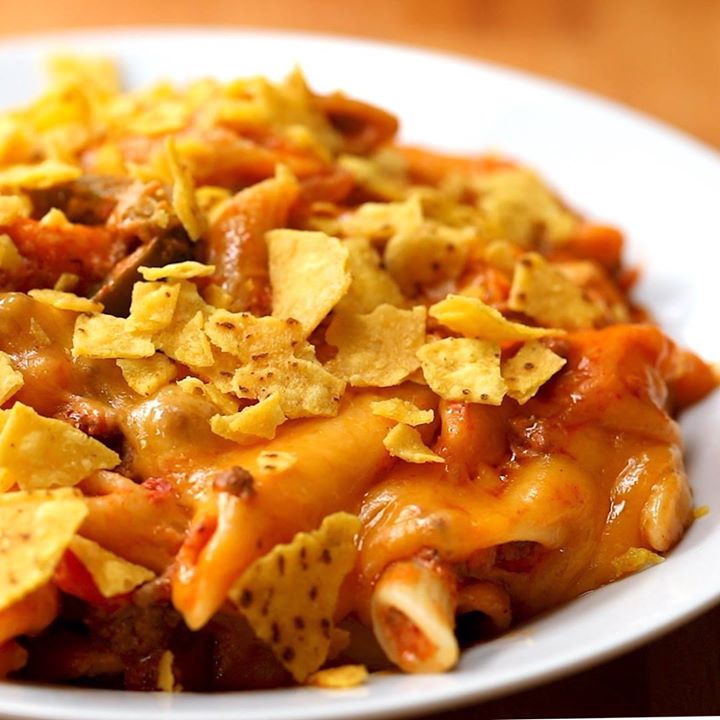 Ingredients
700g beef mince
2 tbsp taco seasoning
1 cup diced peppers
1 cup diced onion
½ cup pickled jalapenos
1 cup grated cheddar
crushed nachos, to serve
⅔ cup cream cheese
Penne, cooked
2 tins chopped tomatoes
Instructions
Fry your beef over medium-high heat, until browned, then drain excess fat and return to the heat. Turn the heat down to medium, add peppers and onions and fry with the beef until the veg is translucent. Add taco seasoning, turn through the meat, veg and oils briefly then add the tomatoes. Turn the heat down and simmer for 10 minutes or so.
Add the jalapenos and cream cheese, stir through then add the cooked pasta. Cover with the cheese, pop the lid on and cook for 5 minutes over very low heat. The cheese should be melted over the creamy pasta.
Serve with crushed nachos, and enjoy!!
Watch the recipe video here: